Your home's central heating system, which offers warmth and comfort throughout the winter months, is its beating heart. Regular maintenance is necessary to make sure it functions smoothly and effectively. We'll lead you through professional advice on how to keep your central heating system in excellent shape in this tutorial. Our heating engineers at Armstrong Plumbing and Heating are available to assist you if you live in York and the surrounding areas.
Contact Armstrong Plumbing and Heating in York, Huntington, or the nearby areas for professional advice on maintaining your central heating system. Our knowledgeable heating engineers are available to help you. Email us at ben@armstrongplumbingandheating.co.uk or call us at 07834 168464 or 01904 373075.
Tips for Maintaining
Central Heating in Good Condition
Schedule Regular Boiler Servicing
Similar to a yearly checkup for your heating system, routine boiler servicing is important. It guarantees that every part is operating at its best, lowers the possibility of unplanned failures, and increases the boiler's lifespan. Our heating professionals can do extensive maintenance specifically customised to your system, ensuring that it operates effectively all year long.

Keep an Eye on your Boiler Pressure
Let's start with one of the easiest measures you can take, as your boiler's pressure level is constantly displayed on the front of the unit whenever it's switched on.
As a general rule, the pressure in your boiler should hover between 1 and 1.5 bar, particularly when the heating system is cool. If it exceeds the upper end of this range, the system is likely to be over-pressurised and this can have a detrimental impact on the performance of your boiler.
This also means that water is being lost from the system, and this may be indicative of additional faults that require urgent attention.
Check Your Radiators
If water is being lost within your heating system, this could be caused in part by pockets of trapped air in individual radiators. This is a common problem and one that's easy to resolve, as you can effectively bleed your radiators by turning the pressure valves and releasing any air trapped in the system. In addition to reviewing the boiler's pressure, you can also identify this issue by checking your radiators for cold spots on a regular basis.
Keep Vents and Registers Clear
Ensure that vents, registers, and radiators are free from obstructions. Furniture, curtains, and other items can block the airflow, leading to uneven heating and reduced efficiency. By keeping these areas clear, you allow the heat to circulate effectively throughout your home.
Monitor Pressure and Water Levels
Your central heating system's pressure and water levels should be maintained within the recommended range. Low pressure can lead to inadequate heating, while high pressure might damage the system. Refer to your boiler's manual or consult our experts to ensure the right levels are maintained.
Keep the Heat Flowing with Pipe Lagging
During the colder months, a significant drop in temperature can cause the pipes in your heating system to freeze. This can have a detrimental impact on the performance of your heating system, but one way to resolve this issue is by having pipe lagging installed.
This affords your pipework potentially years of protection, by proactively minimising the risk of individual pipes freezing and bursting during the cold, harsh winter months.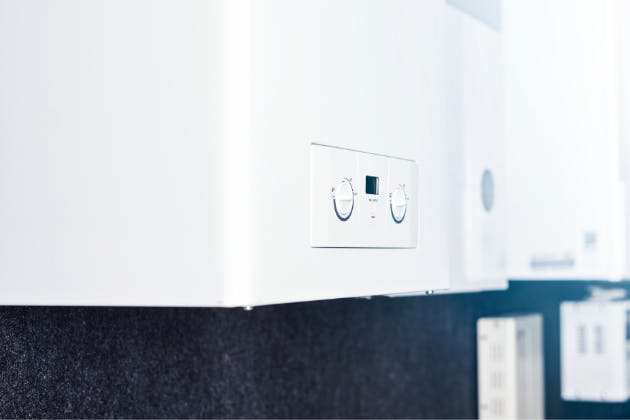 Importance of Keeping Central Heating in Good Condition
For a number of reasons, keeping your central heating system in good working order is crucial. First of all, a properly maintained system guarantees reliable and effective heating, enabling you to enjoy a cosy and comfortable home atmosphere. Everyone in your home will be comfortable, especially during the cooler months, thanks to a professionally installed central heating system that distributes heat evenly throughout your living areas, prevents cold spots, and keeps everyone warm.
By maintaining your system, you reduce the possibility of unplanned failures, which can disrupt your everyday activities and be expensive to fix. A well-maintained central heating system also uses the least amount of energy possible, resulting in lower utility costs and fewer environmental effects.

Second, regular maintenance increases the longevity of your central heating system. Regular inspections, cleanings, and prompt repairs stop small problems from becoming serious ones that might hasten system breakdown. By taking proactive steps to maintain the functionality of your central heating system, you make sure that your investment lasts as long as possible. Replacing a central heating system can be a considerable financial expenditure. A well-maintained heating system also raises the value of your house as a whole. You will have an advantage in the housing market when it comes time to sell your house since prospective buyers are more likely to be drawn to a home with a dependable and well-maintained central heating system.
Overall, maintaining a healthy central heating system is crucial for many reasons than just comfort. It encompasses financial savings, environmental responsibility, and the long-term value of your home.
The Importance of Liaising with Accredited Engineers
Whilst there are numerous things that you can do to maintain your boiler, you should also liaise with accredited engineers to service the heating system on an annual basis.
If you live in York and surrounding areas such as Tadcaster and Wetherby, you can rely on Armstrong Plumbing & Heating to manage all of your boiler needs. We're Gas Safe and OFTEC registered to work with gas and oil boilers alike, whilst our accreditation even extends to LPG boilers.
To learn more about us and the services that we provide, give us a call today at 07834 168464 or 01904 373075. Or, shoot us an email at ben@armstrongplumbingandheating.co.uk and we'll respond just as soon as we can.