If you're anything like us, the decision of whether to repair or replace an old boiler is one that requires careful consideration.
After all, whilst buying and installing a new boiler can cost anywhere between £2000 and £3000, this investment can help you to save money in the long term by cutting the cost of repairs and delivering far greater efficiency.
Ready to experience the benefits of a new boiler? Contact us today to discuss your options and schedule a consultation. Reach out via our contact form, give us a call at 07834 168464 or 01904 373075, or email us at ben@armstrongplumbingandheating.co.uk.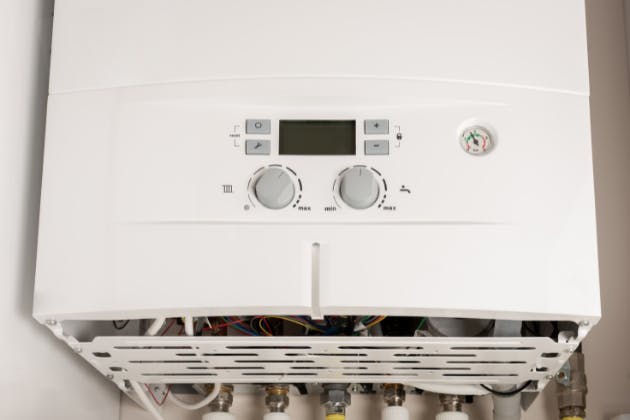 Why Invest in a New Boiler?
There are numerous compelling reasons to upgrade your home's boiler, including increased efficiency and comfort. A new boiler promises reduced energy usage, resulting in cheaper monthly expenses while reducing your carbon footprint thanks to contemporary technology and smart energy-saving features. Being dependable is crucial since modern models guarantee constant performance, saving you from unplanned breakdowns and expensive repairs. This investment is wise for both short- and long-term advantages because it can boost your home's value and contribute to a greener future.

Benefits Associated with Installing a Brand-New Boiler in Your Home
The following are the benefits of why you should install a new boiler in your home
today.
New Boilers are Energy Efficient
If your existing boiler is more than a decade old, the chances are that you'll benefit from significant efficiency savings when you install a new unit.
After all, older, non-condensing boilers are significantly less energy-efficient than contemporary models, typically operating at efficient levels of between 55% and 70% In comparison, new A-rated models boast efficiency levels in excess of 90%, and this can translate into three-figure savings every month.
This also minimises energy wastage in your home, reducing consumption and improving your carbon footprint in the process.
New Boilers Cost Savings Over Time
It's important to take into account the long-term savings when comparing the initial cost of a new boiler installation to that expense. The maximum heat is produced from each unit of fuel thanks to the efficient design of new boilers. These savings can build up over time and assist in offsetting the initial outlay.
New Boilers Have a Reliable Performance
The propensity of an ageing boiler to break down unexpectedly is one of its difficulties. This causes discomfort in addition to requiring pricey repairs. With a modern boiler, you may benefit from constant and dependable performance, which lowers the risk of breakdowns and related costs.
New Boilers Reduced Carbon Footprint
Installation of a new boiler is in line with your sustainability objectives if you care about the environment. Modern boilers are made to emit fewer emissions, which helps reduce their carbon footprint. You may lessen your environmental effect and help the global movement for greener solutions by switching to a more eco-friendly system.
New Boilers Increase Home Value
Not only is it advantageous to your current financial circumstances to invest in a new boiler, but it can also increase the value of your house. Properties with energy-efficient systems are frequently more appealing to purchasers because they will pay less for their energy costs. Therefore, if you ever decide to sell your house, a new boiler could be a selling point.
New Boilers Have Longer Guarantees
When you buy a brand-new boiler, this unit is likely to be protected by a long manufacturer's guarantee. This provides considerable peace of mind to homeowners, who can rest assured that their boiler will always be well-maintained regardless of their own financial circumstances. Just remember to have your boiler serviced by an accredited engineer on an annual basis, as this is often a requirement of the warranty.
Get in touch with our Heating Engineers in York
Whilst there are numerous benefits associated with a new boiler, you'll need to deploy the services of an accredited engineer if you're to fully realise these.
At Armstrong Plumbing and Heating, we have years of experience installing boilers, and our legion of satisfied customers in York and the surrounding regions can testify to this. We're also fully insured and Gas Safe registered, meaning that we're fully qualified to work safely and to a high standard in your home.
To learn more about our values and how we can help manage your installation, give us a call today at 07834 168464 or 01904 373075. Or, you can drop us a line at ben@armstrongplumbingandheating.co.uk and request your quote in writing. You can also contact us via our contact form.